Filter cloth PPI filterfoam
Filter foam with open pores for filtering air, sound insulation, wind absorption. All filter foams can be supplied in any desired format.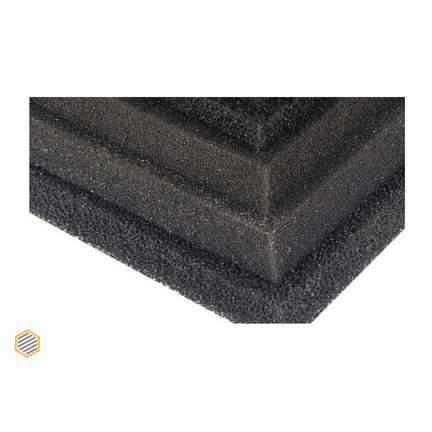 PPI is a black filter cloth made of foamed polyester. It has a homogeneous, open cell structure and is suitable for the capture of coarse dirt particles and is mainly used for industrial applications such as air filtering, sound insulation or wind absorption. A number of examples are: air conditioning systems, vacuum cleaners, air filtering for cars and motorbikes, extraction of machines.
This filter foam with open pores is determined by the pore size. The distribution of the filter foam is the unit of PPI pores per inch, i.e. the number of pores up to one inch (2.5 cm). This PPI 20 filter foam therefore has 20 pores per inch.
Filter foam is available in various designs. namely: PPI 10, PPI 15, PPI 20, PPI, 30, PPI 45, PPI 60 and PPI 80. These are available in different thicknesses.
Depending on the PPI value, the filter class (G2-G3) is ISO Coarse
PPI filter cloth can be cleaned to a limited extent and can therefore be replaced several times. Contact with water, fuel, detergents, mineral oil and fats is no problem.
We process this foam into shapes, plates, strips, blocks and stamping parts. You can think of (CNC) cutting, punching, milling, thermoforming, 3D cutting, laminating, making adhesive, gluing, assembling