PPI filter foam - Filter cloth
Filter foam with open pores for filtering air, sound insulation, wind absorption. All filter foams can be supplied in any desired format.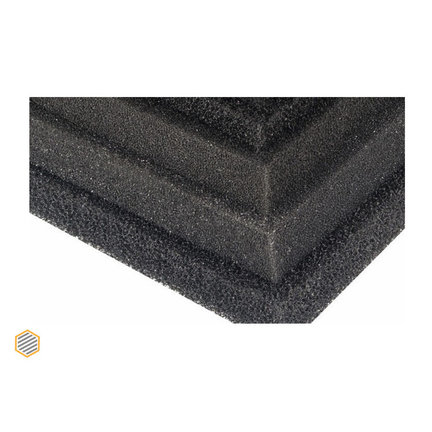 HQ-FOAM AIR FILTERS (PPI)
WTW-FILTERSHOP supplies a full range of polyurethane foam filter cloth, in various constructions and thicknesses, in standard or custom sizes.
HQ-Foam air filters are designed to provide high dust removal where a permanent, cleanable filter is required in medical equipment, electronics, computers, telecom, data centers and general purpose equipment. HQ-Foam media can be used in a wide variety of indoor and outdoor applications.
HQ-Foam can withstand exposure to moisture when installed in outdoor environments. The cellular media structure acts as a mist separator to reduce water ingress from rainfall or water splashes.
This open pore filter foam is determined by the pore size. The distribution of the filter foam is the unit of PPI pores per inch, ie the number of pores up to one inch. (2.5 cm). This PPI 20 filter foam thus has 20 pores per inch. a higher number is therefore a finer filter.
HQ-Foam media is a polyurethane foam, with an open cell structure, available in different pores per inch (2.5 cm) (PPI) ranging from 15 to 60 PPI. So a PPI 20 filter foam has 20 pores per inch.
The random arrangement of strands and pores makes this a filter medium with an enormous dust-holding capacity. This media property also helps as a fog eliminator for applications where water droplets are in the air stream. Contact with fuel, detergents, mineral oil and greases is not a problem.
Foam sheets can be supplied in your desired size, whilst different pore sizes can also be glued together to give a two stage filtration, expanded mesh can be fitted between the pads to create a stiffer panel if required.
We process this foam into shapes, plates, strips, blocks and punched parts. You can think of (CNC) cutting, punching, milling, 3D cutting, laminating, making self-adhesive, gluing, assembling
PRIMARY APPLICATIONS
Ventilation systems
Heating systems
Air Conditioning Systems
Air dehumidifiers
Air Intakes
And many others
CHARACTERISTICS
Good dust filtering capacity and low air resistance
Possible combination of materials (aluminium mesh, steel mesh, activated carbon, etc.)
Available in different densities (PPI), thicknesses
Available with or without steel frame
Available in sheets, pre-cut pieces and rolls
Washable in warm water, so they last longer and are very cost effective.
BENEFITS
Good dust filter capacity
Soundproof
Excellent impurity retention rate
Easy maintenance
Excellent durability
Low resistance